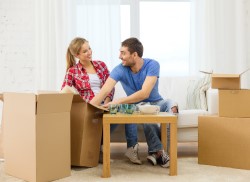 How To Handle Small Removals On A Budget
07Jul 2015
Moving house can be an expensive process but at the same time it doesn't have to clean out your bank account. Most people think that their days of doling out their money will end the minute they buy their new house. But the removal process can also be very expensive if you don't take the appropriate measures to do your research and hire the right services for your specific requirements. Minimise the cost of the process by following these hints and tips to get you on your way, so that you won't be broke the second you step into your new house.
1. Do it all yourself.
The cheapest way to save money from the process would be to do away with a removal company entirely. If you have a reasonably sized vehicle or can get the help of a friend, packing, loading up the vehicle and transporting your items yourself on moving day will save you a lot of money. But be prepared to do some hard grafting, as you'll have to do a lot of manual labour on moving day; those heavy boxes and furniture pieces won't be lifted by a professional team of house movers, so bear this in mind when considering your options.
2. Consider the size and the specialised equipment that comes with a removal van.
If you're going to be moving without the help of a specialist company, chances are that the van you decide to use for the move won't be kitted out with straps, blankets and cords to thoroughly strap your items into place and secure them for the journey. Therefore, when you load up the van, you'll have to think about what goes where and pack everything snugly so as to minimise any movement and clinking about during the move.
3. Loading up the van is one thing, but unloading the van is another.
It's all well and good just bunging your items into the back of the van. But in your haste to get moving and get the heavy lifting finished as quickly as possible, just chucking everything into the back of the van won't do you much good when you reach your new place and have to start unloading the van. Pack, load the van and arrange your items in such a way that will allow you to get the heavy, larger items off first, and leave the smaller boxes until towards the end, so that you're not totally drained by the end of the process.
4. Make a floor plan.
Make a floor plan of your new house. This will allow you to plan where your items will go so that you can pack accordingly, but also so that you can quickly unload the van and put everything in its correct position straight away, reducing the amount of lifting that you'll have to do later on.
5. If you're a man with a plan hire yourself a man and a van.
If you do fancy getting some help with your move but still want to keep the cost down as much as possible, hiring one of these services is perfect. The team will show up, do all the heavy lifting and loading up the van, drive your possessions to your new place and then help with the unloading. They're also different from the specialist moving companies as they tend to deal by cash in hand methods, and the booking process is usually very quick and straightforward. But make sure you ask for additional things, such as insurance because you'll still want some piece of mind that your items will be protected in the case of any unfortunate events occurring.